Long venerated as a Holy City in Islam, Christianity and Judaism, Jerusalem's recorded history spans over 3,000 years. Every year tourists from all over the world flock to visit the Sacred and Historical Sights of this popular destination. Points of interest such as the Stations of the Cross, Garden Tomb and the famous Dome of the Rock, al-Aqsa Mosque and the Western Wall encapsulate the rich, yet turbulent History of Jerusalem while resonating on a personal level with religious sects and world religions. Today's Jerusalem still retains much of its past – permeating the atmosphere of the city and lingering in the shadows of its Holy sites.
Apart from its deeply spiritual significance,
modern-day Jerusalem paints itself as a
metropolis – complete with restaurants,
museums, shopping malls, and cafes.
A revered, ancient, and religious site. A city with rich cultural and historical significance. A modern metropolis. Jerusalem is truly one-of-a-kind.
No wonder, tourists from around the globe flock to the Holy Land, every year – just like they've done for centuries.
A sacred place for Muslims, Jews, and Christians, Jerusalem is a must-visit for all. Period.
From visiting the Al-Aqsa Mosque, Dome of Rock, Garden Tomb, and Western Wall to simply immersing yourself in the history and mystery of the city, you can do it all, breathing new life in your mind, body, and soul.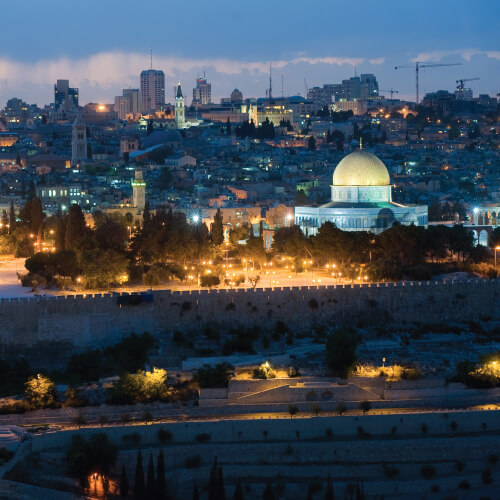 Go Jerusalem The Holy Land
Visit the Holy City of Jerusalem to experience the history of Islam, Judaism, and Christianity, replenishing your mind, body, and soul.